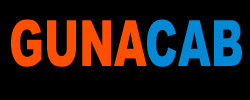 January 2020, Guna Cab will be able to take city service like Ola Uber.
I want to tell customers. Soon Guna is going to launch its app in the cab market. The work of the app has started, which will be completed in 2-3 months. It will be seen running in the guna in the first two months of the beginning. Through this app, customers will be able to register from their phone, create login ID password. You will be able to live cab tracking and book cabs.
In addition, a payment gateway has been linked through which customers will be able to make online payments.
After February 2020, customers will be able to book Guna cabs in these cities through the app.
Guna, Bhopal, Gwalior, Indore, Jhansi Khajuraho, Kota, Agra, Mathura Nashik,
This entry was posted on September, 03, 2019 at 13 : 57 pm and is filed under Media News. You can follow any responses to this entry through the RSS 2.0 feed. You can leave a response from your own site.